Background: The Nazi Party put out an official account of the Nuremberg Rallies each year from 1933 to 1938. There were three key themes at the 1936 rally: The evils of Bolshevism, Germany's need to be independent of foreign sources of raw materials, and Germany's demands to get back the colonies it last lost after World War I.
The source: Der Parteitag der Ehre vom 8. bis 14. September 1936. Offizieller Bericht über den Verlauf des Reichsparteitages mit sämtlichen Kongreßreden (Munich: Zentralverlag der NSDAP., 1936).
---
The Party Rally of Honor (1936)
---
Table of Contents
The Party Rally of Honor, by Dr. Walther Schmitt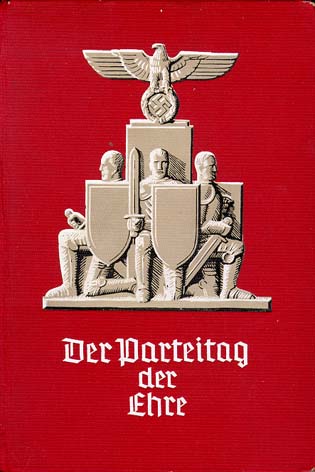 The Course of the 8th Reich Party Rally of the NSDAP
Nuremberg's Greeting to the Führer
Rudolf Hess Opens the Congress
The Cultural Session in the Opera House
"Labor Service for Germany" [The Reich Labor Service]
The Second Session of the Party Congress with the Speeches of Reichsleiters Alfred Rosenberg and Dr. Joseph Goebbels
Rudolf Hess: "The Homeland is Safer Than Ever Before"
The Third Session of the Party Congress with Speeches by Hauptamtsleiter Dr. Reischle, Hauptamtsleiter Hilgenfeldt and Hauptdienstleiter Dr. Wagner:
The Rally of the German Woman's League
The Oath under the Cathedral of Light
The Ceremony of the Hitler Youth
The Fourth Annual Meeting of the German Labor Front
The Fourth Session of the Party Congress, with speeches by Reichsleiters Dr. Frank, Dr. Dietrich and Amann, and Hauptdienstleiter Reinhardt:
The Brown Battalions Before the Führer
The Fifth Session of the Party Congress with speeches by Reichsleiter Dr. Ley, Hauptamtsleiter Dr. Todt and Reichsleiter Hierl:
The Wehrmacht on the Zeppelin Field
The Führer's Final Speech to the Congress
Pictures of the Reich Party Rally of Honor in 1936 (44 photographs, not all included here)

The badge for the 1936 Nuremberg party rally
[Page copyright © 1998 by Randall Bytwerk. No unauthorized reproduction. My e-mail address is available on the FAQ page.]
---
Go to the 1933-1945 Page.
Go to the German Propaganda Archive Home Page.