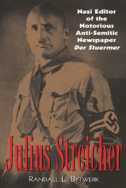 Background: A regular feature of Julius Streicher's Der Stürmer in the 1930's was a column of denunciations sent in by readers. Although the Stürmer's prime business was attacking Jews, these items generally were complaints about Germans who had friendly relations with their fellow Jewish citizens. Over 6,000 people were attacked by name and town between 1934 and 1939, after which the column disappeared, since there were few Jews left in Germany. This is a typical column from 1935. The names of those having friendly relations with Jews are given in bold typeface, along with their towns. The intention was to intimidate them, and make them known to the Stürmer's readers. For more information on the Stürmer and its editor, see my book on Julius Streicher.
The source: "Briefkasten," Der Stürmer, #19/1935, p. 10.
---
Mailbox
---
Derschlag (Rhineland): If the national newspaper for barbers, The German Barber, wants to be an organ guided by the National Socialist spirit, it will have to give up on Jewish advertisements.
Neustadt (Glewe): The Adler & Oppenheim leather factory is Jewish. In a typical Talmudic trick, it gave its workers a Christmas present that was essentially paid for by pay deductions. But the more thoughtful managers and supervisors could have taken the opportunity to prove their National Socialist attitudes through their actions.
Schweighausen (Baden): The S.A. leader was entirely correct when he took the S.A. uniform away from the Jewish lackey, teacher Otto Söppert. The fact that the Catholic priest Halter refuses to contribute to the Winter Relief because of the Stürmer is the epitome of modern-day Phariseeism.
Düsseldorf: We hear that the full-blooded Jew Carsch is still employed by the Seifert firm, and gets a share of the profits. Seifert is therefore not Aryan!
Jülich: It is disgraceful that a group of officials and businessmen in Jülich still get together with Jews and go bowling. Look into it, Mr. County Inspector!
Kulmbach: We hear that the David Memorial is causing discussion and could lead to ill-considered actions. Hopefully the Kulmbachers will not be carried away.
Biblis (Hesse): It is deeply disgraceful that the gentlemen Georgi, Enghof, Knell, Deckerle, and Drackert III are Jewish lackeys. But when S.A. Man Franz Häuser goes dancing with the Jewess Edel Fränkel, words to describe the depravity fail. Take off the brown shirt!
Bremen: It is true that the brothers Hirschfeld have a women's clothing shop on Obernstraße in Bremen. They have branches in Berlin, Hamburg, Cologne, Hanover, Lübeck, etc. The Jew Hirschfeld causes trouble not only because of his criminally intimate relationships with his employees, but also because of shady accounting practices. He sent out bills to the women's husbands that were too high, and then returned the overcharge to the "ladies."
Hamm and Opfen (Sieg!): The rolling mill master Gustav Hütt should be ashamed. From pure greed, he took the Jewish rabbi Kurt Schreiner into his house. He even said that he liked the Jew as much as any German.
Merxheim (Nahe): If the NS Merchant's Association member C. gets his liquours from the Jew Löb in Andernach, the matter should be energetically investigated by the relevant county leader.
Berleberg in W.: It is a disgrace that hereditary farmers Georg Heinrich Saßmannshausen and Heinrich Dreisbach, both from Birkenfeld, do business with the notorious Talmud Jew and Nazi-hater Simon from Erndtebrück. That is how these Jewish lackeys thank their Führer Adolf Hitler for freeing them from Jewish serfdom!
Laasphe (Westphalia): The livestock dealer Sally Gunzenhäuser, Wasserstraße 2, is not only an insolent bigmouth, but also a notorious chaser of German women. We draw the attention of the authorities to him, and warn our fellow citizens.
Roßbach (Wald): We hear that teacher Therese Schricker in Wald is a BDM [the Nazi organization for girls] leader in Wald! We cannot believe that she chattered in this way to her students: "As I was shopping a while ago in Schocken [a Jewish-owned department store], I saw the Schifferfrauen..."
Hof in B.: You send us a picture from the Hofer Anzeiger, #41. It shows among others County Leader Kuhr, Mayor Dr. Windler and — the Jew Regensburger. We presume that the two party members were not entirely comfortable in such company.
Dr. R.C., Cologne: We have heard about this matter from other sources as well. Counsuls of foreign states enjoy the normal international protection. When they visit political meetings and behave in an improper way, however, they cannot complain if that is pointed out to them. After all, one cannot tell by looking that someone is a counsul. And one should be able to expect that a counsul has the tact to behave as a guest and that he avoids the danger of being called to task. We do not believe that a German counsul abroad would behave in the same provocative manner as the Swedish counsul did in Cologne.
R., Munich: The Stürmer has already been informed that a Jew from Wiesbaden wants to buy the Simoni firm on Ritter von Epp Square in Munich. We hope that the removal of the Wiesbaden Jew to Munich will be hindered. It is high time that one finally puts a stop to Jews moving to Munich.
[Page copyright © 2003 by Randall Bytwerk. No unauthorized reproduction. My e-mail address is available on the FAQ page.]
---
Go to 1933-1945 Page.

Go to the German Propaganda Archive Home Page.