Background: The Nazi Party maintained a winter charity, for which there was an annual fund drive. Those who contributed received a variety of small items in return. Sometimes, these were small booklets like this one, shown in its full size. It was one of 20 given to contributors during the winter 1942-43 campaign. Each booklet summarized the life and exploits of a decorated war hero.
---
Gerhard Koeppen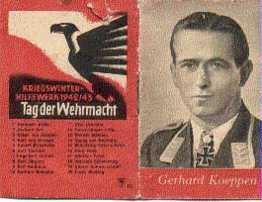 Heroes of the Wehrmacht

A farmer's son — not a professional soldier — but a passionate flyer who was one of Germany's best fighter pilots — that was Lieutenant Gerhard Koeppen. He had a soldier's personality, yet wanted to take off his uniform after the war to become a farmer on his own land.

Gerhard Koeppen was born in Holzendorf in Prenzlau on 17 May 1918. Even as a schoolboy he was an enthusiastic glider pilot. After finishing school, he worked on his father's farm and attended agricultural school, learning aircraft mechanics on the side. He volunteered for the Luftwaffe when he turned 18.

Before the war, he belonged to the Hindenburg Squadron. He became a fighter pilot during the war. After action in Greece and Crete, he had his greatest successes in the East.
As a sergeant, Gerhard Koeppen won the Knight's Cross. He had already shot down 40 enemy planes, and also in daring low-level attacks gone after airfields, columns of troops and tanks. He inflicted heavy damage on the enemy. He set a Soviet gunboat ablaze on the Dnieper River. On 24 February 1942, as the best shot in his squadron, he downed four Bolshevist fighters. This brilliant achievement earned him the Oak Leaves to the Knight's Cross, the 79th person to earn the award. By then, he had shot down 72 enemy planes. He had also been named in the Wehrmacht report. He was promoted to Lieutenant. Reich Marshall Göring himself gave him his officer's baton.

Caption: After receiving the Knight's Cross

After a brief leave, Lieutenant Koeppen gained further victories. His name appeared in the Wehrmacht report once again after he shot down four Bolshevist planes on 1 May, and five the next day. His ability and exemplary fighting spirit were the foundation of his success as a fighter pilot. He met his death in battle at the beginning of the Crimean campaign. He fell to ground fire on 5 May 1942, shortly before completing his 24th year. He had shot down 85 enemy planes.
[Page copyright © 1999 by Randall Bytwerk. No unauthorized reproduction. My e-mail address is available on the FAQ page.]
---
Go to 1933-1945 Page.

Go to the German Propaganda Archive Home Page.