Background: There are a number of illustrated books published during the Nazi era. They were large books in which one pasted photographs received as premiums. This one, published in 1936, was devoted to the deification of Adolf Hitler. My copy of this one brought the number of copies in print to 2,450,000. The illustration on this page is the dust jacket cover.

This is part of a larger site on German propaganda. For further information, see the site FAQ.

The source: Adolf Hitler. Bilder aus dem Leben des Führers(Hamburg: Cigaretten/Bilderdienst Hamburg/Bahrenfeld, 1936.
---
Adolf Hitler:
Pictures from the Life of the Führer
---
Dedication by Hermann Göring: "My F¨uhrer, we are not able to express our thanks to you in words. Nor are we able to prove our loyalty and affection for you in words. All the thanks, the love and the burning confidence in you, my F¨uhrer, is expressed in the hundreds of thousands of eyes before you.
An entire people, an entire nation feels strong and happy today because you came to this people not only as the F¨rhrer, but also as a savior."
[Göring's statement is taken from a speech at the 1935 Nuremberg party rally.]
---
Table of Contents
Introduction, by Dr. Joseph Goebbels
The Führer and his Travels, by SS BrigadeFührer Julius Schreck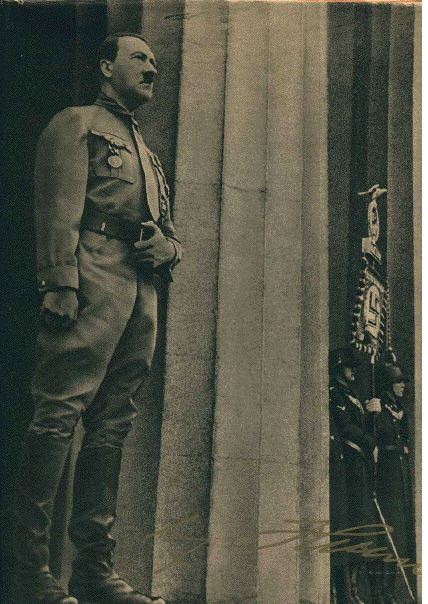 The Führer and the German People, by Dr. Otto Dietrich
The Führer as a Speaker, by Dr. Joseph Goebbels
The Führer's Private Life, by ObergruppenFührer Wilhelm Brückner
The Führer as a Statesman, by Dr. Joseph GoebbelT
The Führer and the German Worker, by Dr. Robert Ley
The Führer and the Arts, by Dr. Joseph Goebbels, which includes five Hitler paintings.
The Führer's Buildings, by Architect Albert Speer
Adolf Hitler's Roads, by Generalinspektor Dr.-Ing. Fritz Todt
Our Hitler: A Radio Address to the German People on the Führer's Birthday, by Dr. Joseph Goebbels
The Führer and the Wehrmacht, by Oberstleutnant Foertsch
The Führer and the German Youth, by Baldur von Schirach
The Führer and the National Socialist Movement, by Philipp Bouhler
Special Contribution: The Führer in Landsberg Prison, by SS Brigade Führer Julius Schraub
---
[Page copyright ©  1998 by Randall Bytwerk. No unauthorized reproduction. My e-mail address is available on the FAQ page.]
---
Go to the 1933-1945 Page

Go to the German Propaganda Archive Home Page