Nazi Propaganda by Joseph Goebbels
1933-1945
---
This is a collection of English translations of Nazi propaganda material by Joseph Goebbels, part of a larger site on Nazi and East German propaganda. It includes many of his weekly articles for Das Reich, as well as a range of his speeches. Some of Goebbels' pre-1933 articles and speeches are available on the pre-1933 section of the German Propaganda Archive. The portrait was done by Wilhelm Otto Pitthan. For further information on the German Propaganda Archive, see the FAQ.
---
Nazi articles on Joseph Goebbels:
Goebbels' speeches on the eve of the new year:
Goebbels' annual speeches on the eve of Hitler's birthday: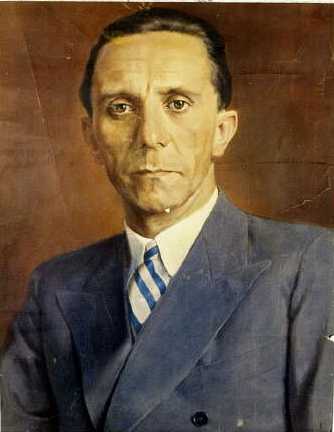 Miscellaneous Speeches:
A selection of Goebbels' articles:
---
Search the Archive for:
---
Go to the 1933-1945 Page
Go to the German Propaganda Archive Home Page
Last revised on 3 June 2008 by Randall Bytwerk. My e-mail address is available on the FAQ page.